EDIT MAIN

Government & Public Administration
This cluster focuses on the planning and performance of government functions and services on a local, state, and federal level.
Careers in this field will involve making and carrying out of public policy. Those in this field must have the ability to communicate, have an understanding of law, and possess the ability to network with other individuals or agencies, especially in an emergency or crisis situation
Possible Careers in this field include service in the armed forces, emergency management directors, transportation security screeners, and court officers.
The following CTE programs under this cluster are offered at Jefferson-Lewis BOCES: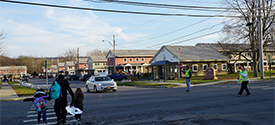 Careers in the criminal justice field are both rewarding and demanding. BOCES' Criminal Justice program allows you to explore your options in this field in rigorous hands-on and classroom-based learning activities. The two-year program features use of some of the most current technology found in the profession, including crime-scene investigation and suspect identification tools and firearms simulation equipment. You'll also work side-by-side in internships with criminal justice professionals in the local community. Ready for the challenge?
Similar Clusters:
Learn more about Government & Public Administration at GPS for Success: