EDIT MAIN

Arts, AV Technology & Communications
This cluster focuses on the art of multimedia communications to a vast and wide audience, through the use of the written word and visual images.
Careers in this field involve individuals with creative tendencies and a capacity to bring that vision to life. All jobs in this field involve storytelling and communicating a message to the general public. Those entering the field will need to be comfortable with and have knowledge of computers and other technical equipment. They must also be able to work as part of a team and be able to problem solve.
Possible careers in this field include desktop publishing, printing press operators, commercial and industrial designers, graphic designers, fashion designers. and multimedia artists and animators.
The following CTE programs under this cluster are offered at Jefferson-Lewis BOCES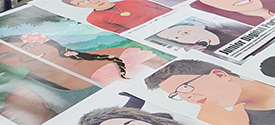 Take a quick look around at your surroundings. Advertising, product packaging, videos, websites and interactive games––they're all part of your sensory world…and they were all designed to capture your attention and interest. Learn to be a part of the creative processes that bring this visual world to life in the Visual Communications Program.
Similar Clusters
Learn more about Arts, AV Technology & Communications at GPS for Success: