Students and faculty of the Howard G. Sackett Technical Center recently had the opportunity to make a difference by donating blood to the American Red Cross. It was part of a biannual community service project organized by the New Vision Health program in Lewis County.
The blood drive occurred on November 18, 2019. New Vision students spent the weeks leading up to the event promoting to their fellow students the need for blood. The push proved successful as a number of students and faculty members stopped by to donate. Many students were donating for the first time, including Tucker Carrol, a junior from Copenhagen Central School.
"It went better than I thought it would," says Tucker, who is enrolled in the Environmental Conservation and Forestry program. "I thought it would hurt more than it did, but there was nothing to it." He says he plans on donating again in the future.
Some students were donating for the fourth time. Among them was Deakin Carrow. "I've always wanted to help people and this is a great way to do so," says the Visual Communications senior from Beaver River.
Not only did the New Vision Health program students help promote the drive, they also took an active part in assisting the Red Cross during the course of the event.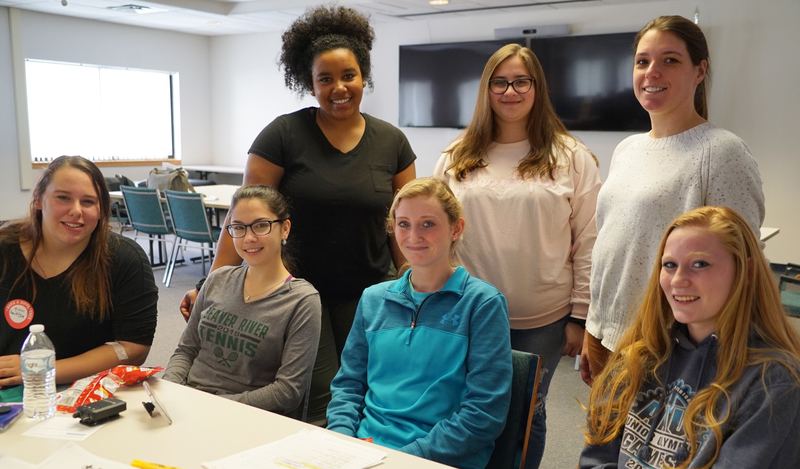 "It's been fun," says Maggie Farney, a senior from Beaver River. "I've learned how to use the (Red Cross) system for signing people in." She adds that blood donations are very important in that just one pint can save three lives, something that has been discussed in the New Vision classroom.
Overall 22 pints of blood was collected on the day, enough to save 66 lives.
Also assisting during the drive was Kaitlin Burns, a senior from Beaver River. After making her own donation, the New Vision student handed out snacks and drinks to others.
"I've donated four times, including this one. I always get an email afterward telling me where my donations went. At the end of the day, it makes you feel good."