Students throughout the North Country had the opportunity to take part in a unique virtual learning experience during the second week of November as Jefferson-Lewis BOCES held its annual Connected Learning Week.
This was the sixth year that Jefferson-Lewis BOCES held the week-long event. School districts from Jefferson, Lewis, and Herkimer Counties participated. Students were not only able to take part in their classrooms, but through remote learning at home as well.
The spectrum of topics this year ranged from science to social studies and more. Elementary school children had the opportunity to learn more about otters by taking part in a lesson from the Wild Center in Tupper Lake, NY. Others were able to take a virtual hike through the Grand Canyon and learn about the different ecosystems and wildlife that make up the canyon.
The National Archives in Washington D.C. gave a lesson to sixth graders on the U.S. Constitution and how checks and balances are put into place. The archives also shared several important documents illustrating those relationships.
There was a local flair to Connected Learning Week as well. Students took a 3D virtual field trip with the Antique Boat Museum in Clayton to learn more about La Duchesse, a 106' custom built house boat for George Boldt in 1903.
A host of students were able to explore the life that exists beyond the coral reefs of Honduras through a presentation by School Library Systems Coordinator Meghan Gartland, who is also a recreational scuba diver.
Jefferson-Lewis BOCES would like to thank all of the local classrooms and presenters from across the country that took part in another successful Connected Learning Week.
To learn more about connected learning opportunities that are being offered year round by Jefferson-Lewis BOCES, please visit our website: https://www.boces.com/o/p-p-dev/page/connected-learning

Students in Belleville Henderson Central School learn about government with the National Archives.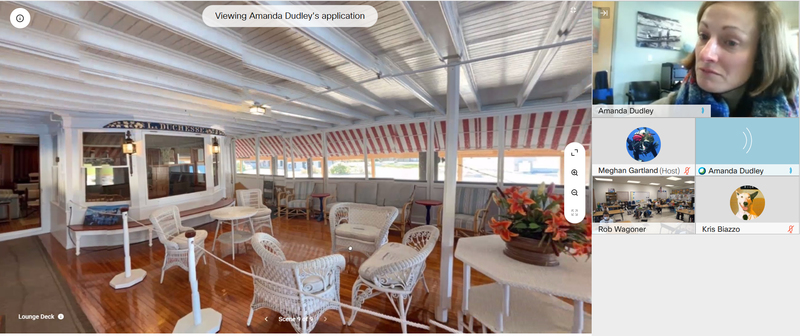 Alexandria Central Students take a virtual visit of the lounge deck on board the La Duchesse with the Antique Boat Museum.