EDIT MAIN

School Library System

The Jefferson-Lewis BOCES School Library System coordinates with our 18 component district librarians and assists them with a variety of services. This includes facilitating interlibrary loans, providing shared services, maintaining a professional library, and providing databases with technical support. Professional development and MakerSpace workshops are also available.
It is our mission to provide our member librarians with the support, resources and professional development to continue to be both educational leaders and collaborative partners with the teachers and administrators in each of our component districts. We facilitate equitable access to information resources for all students and instructional members in each district and we are committed to helping our libraries in their efforts to help each and every student meet and exceed the challenges of becoming college and career ready by graduation.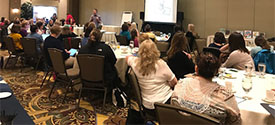 Communication Coordinator and Council Page: Information for School Library System Council and Communication Coordinator members.
School Library System Resource Page: Visit our School Library System Resources Page for databases, directories, interlibrary loan information, MakerSpace kit catalog and more.




Meghan Gartland
School Library System Coordinator
Jefferson-Lewis BOCES Administrative Building
20104 State Route 3
Watertown, New York 13601
Phone: (315) 779-7288
Email: mgartland@boces.com

Angela Bartelotte

SLS Clerk/Administrative Assistant
Howard G. Sackett Technical Center

5836 State Route 12
Glenfield, NY 13343-9704
Phone: (315) 377-7352

Email: abartelo@boces.com