When Andrew Hansen first entered high school, he didn't see himself going to college. Now in his senior year, the Visual Communications student from Alexandria Central has been accepted to Cazenovia College with dreams of becoming a Graphic Designer.
"I visited the campus recently and I liked it," says Andrew, who also earned an $80,000, four year scholarship. "It's similar to BOCES, a small school with the opportunity to really interact with the instructors."
Andrew's journey with Jefferson-Lewis BOCES began with the Pre-Tech Academy program, offered to high school sophomores at the Charles H. Bohlen, Jr. Technical Center. He says Pre-Tech proved valuable in helping him academically. It allowed him to learn, but was more hands on with its studies. Pre-Tech also gave Andrew the opportunity to sharpen his graphic design skills as he helped outline promotional material for the program's greenhouse project.
Part of Pre-Tech Academy is the shadowing program. Students have the opportunity to spend a day in different Career & Technical Education programs at Bohlen Tech. Andrew had an interest in art and had taken a digital media course at Alexandria. Spending time with the Visual Communication program opened Andrew's eyes to the career possibilities in that field. The decision was made to enroll in the BOCES program his junior year.
Other than working on his student portfolio, Andrew also gained some valuable experience working on graphics projects outside of BOCES. He says during his junior year, he was able to help design office signs that are being used at Alexandria Central among several other projects.

Andrew chatted with NYS Assemblyman Mark Walczyk during his recent visit to Andrew's home school of Alexandria

"BOCES really taught me the fundamentals in this field," says Andrew.
It was at the suggestion of Visual Communications Instructor Mr. Christopher Bova that Andrew looked into Cazenovia College and applied.
"I ended up having lunch with one of the professors during my visit and got along really well with him. He seemed impressed that I had a career path and was really interested in pursuing Graphic Design."
Several months into his senior year, Andrew plans to continue focusing on his studies and learning as much as he can before beginning his post-high school career at Cazenovia. He also credits BOCES with helping him find his passion, believing he wouldn't have stayed in school without it.
"You are doing what you like to do two years before college" he says.
Good luck to Andrew and congratulations on his well-earned college acceptance.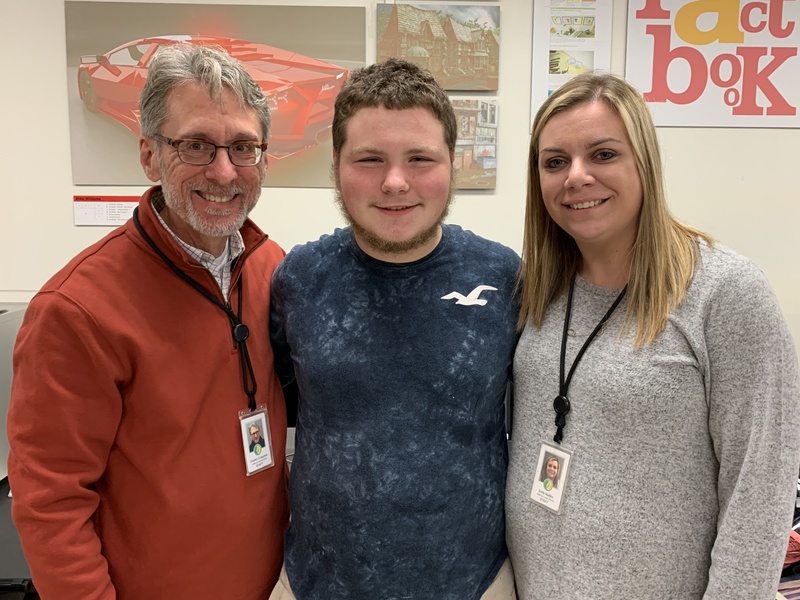 Andrew with Visual Comm. II Instructor Mr. Costantino and Pre-Tech Instructor Ms. Mullikin