For Deivi Araujo Castillo, his path to a high school equivalency diploma was anything but conventional. But his goals came to fruition this past June as he earned his diploma through the Adult Literacy Education program at BOCES.
Deivi, a native of the Dominican Republic, first began literacy classes in the fall of 2019. He entered the program as a non-native speaker with 12 years of education in his native country. Deivi spent the time working to improve his English skill set to achieve his career goals, and attended classes faithfully both in-person and remotely.
In September 2020, Deivi sat down for his high school equivalency exam. He successfully completed day one of the test. In the early morning hours of the exam's second day, Deivi's wife gave birth to their first child. Academics were suspended and Deivi's goals shifted first and foremost to fatherhood.
Fast forward to June 2021. Deivi was able to sit for the high school equivalency exam once again and this time, was able to successfully complete the exam as a whole. Deivi plans on using his high school equivalency diploma for a career path in the military.
While Deivi's story may seem unique, he is just one of many adult students who personifies the strength and influence of Adult Education programming. Life happens and kudos to students who succeed and instructors who lead them. Congratulations to Deivi and his family and a special thank you to Margaret Rice, the literacy instructor of Adult Education at BOCES.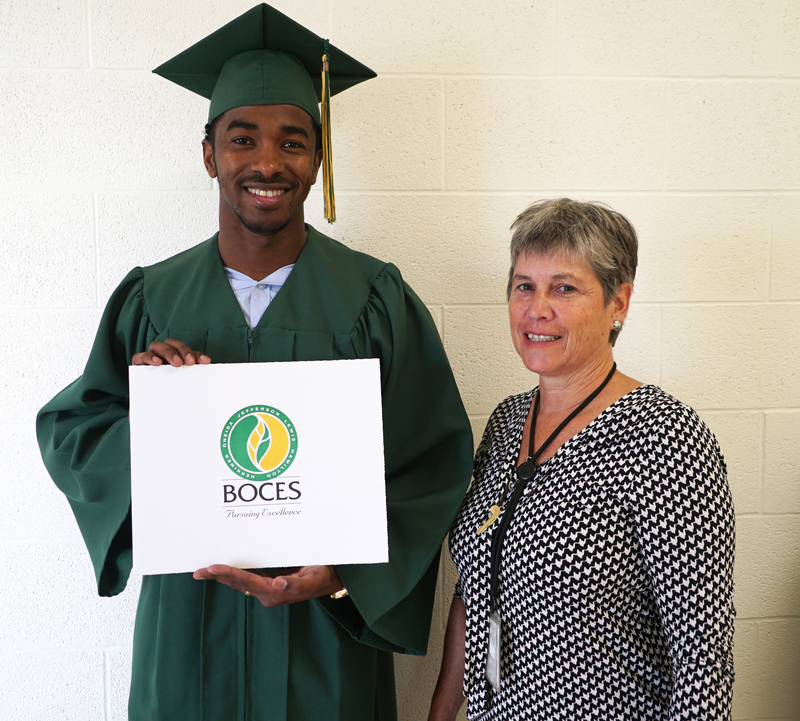 Deivi with Adult Literacy Education Instructor Margaret Rice