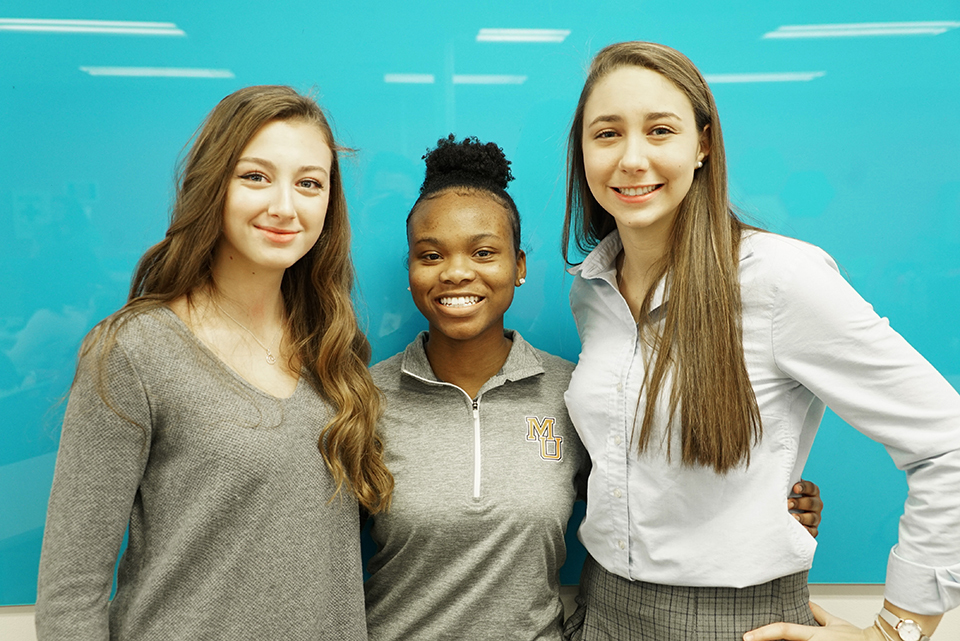 New Vision Students Sign College Acceptances
Nathan Lehman
Friday, February 22, 2019
Three seniors in the New Vision Health program at the Bohlen Technical Center will be continuing their medical studies beyond high school. Their recent college acceptances and academic scholarships were celebrated at a signing ceremony held at the Watertown campus.
McKayla Weber will be attending the Albany College of Pharmacy. Xandria Smith will be attending Mercer University as part of their Bachelor of Science in Nursing program. Madison Thomas has been accepted at Nazareth College in Rochester to study in their nursing program.
All three credit New Vision at Jefferson-Lewis BOCES for helping shape their chosen career paths.
"I love biology, but I also love chemistry," says McKayla, a senior from Immaculate Heart Central School. "Through the New Vision program, I learned that you can combine the two sciences within the pharmaceutical industry, so that particular career path really stood out to me."
McKayla adds that New Vision also introduced her to different aspects of hospitals and all the ways you can help people, which is her chief motivation for going into the medical field. She will be attending the Albany School of Pharmacy on a $16,000 per year Academic Excellence Award and a $10,000 New Vision Participation Award.
"The New Vision program made me really excited to go into the medical field," says Xandria, a senior from Watertown High School. "The class confirmed to me that this is what I really want to do."
Xandria hopes her current academic and career path will lead to her eventually becoming a Physician's Assistant. She will be attending Mercer on a $17,000 per year Academic Scholarship and a $2,000 per year Partner Scholarship.
"The medical field really appeals to me," says Madison, a senior from South Jefferson. "Through New Vision, it was great to see different areas of the hospital and other medical careers. It really piqued my interest."
Madison hopes to eventually enter the field of Dermatology and work with teens in helping them improve their self-confidence. She will be attending Nazareth on a $12,500 Founder's Scholarship, a $2,000 Nursing Scholarship and a $2,000 Purple and Gold Scholarship.
To learn more about the New Vision Program offered at Jefferson-Lewis BOCES, click here.