EDIT MAIN
About cte
Career and Technical Education at Jefferson-Lewis BOCES prepares students for life success. Whether you are looking to enter the workforce or continue your education through college, our CTE programs will give you the tools needed to reach your potential. Programs are available locally for both high school and adult students in a variety of fields.
Our instructors are more than just teachers. They are passionate about their field and their desire to pass their knowledge on to others. All of our instructors have spent years in the careers that they are teaching. Students in CTE programs build a lasting relationship with their instructors, who advise them on the many career options that are available to them.
Courses are offered in fields and industry of high demand and employability. Many of our students go on to find work locally.Industry representatives serve on advisory committees which are consulted on a regular basis to make sure each program meets the highest standards.
Our Career and Technical Education programs are taught at our two technical centers located in Jefferson and Lewis Counties. They are the Charles H. Bohlen, Jr. Technical Center in Watertown, NY and the Howard G. Sackett Technical Center in Glenfield, NY.
For further information, contact Jeffrey Ginger, Director of Career, Technical, Adult & Continuing Education, (315) 779-7000 or (800) 356-4356, jginger@boces.com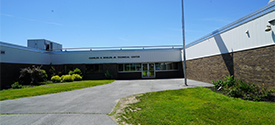 The Charles H. Bohlen Jr. Technical Center serves students in the Alexandria, Belleville Henderson, Carthage, Copenhagen, General Brown, Indian River, LaFargeville, Lyme, Sackets Harbor, South Jefferson, Thousand Islands and Watertown school districts.
The Howard G. Sackett Technical Center serves students in the Adirondack, Beaver River, Carthage, Copenhagen, Lowville, South Lewis and Town of Webb School Districts.