Just because you are social distancing and home more doesn't mean that you have to go without some tasty treats. A senior Culinary Arts student is using her baking talents to brighten the days of others during the COVID-19 pandemic.
Kennedie Mushtare's love of baking began at age 9, making sugar cookies with her grandmother. Her family loves cooking as well, so being in kitchen was nothing out of the ordinary for her. Her interest led the Carthage Central student to Jefferson-Lewis BOCES, enrolling in the Culinary Arts program during her junior and senior years.
"Over the last two years I have enjoyed learning new things and broadening my knowledge when it comes to cooking and baking," says Kennedie. "Being in the baking program as a junior certainly expanded my comfort level when baking at home. I branched out and started trying new things which has benefited me as a self-taught/hobby baker."
Even before BOCES, Kennedie's skills in the kitchen made her baked goods highly sought after. Her parents created a Facebook page that allowed people to order online. She began receiving offers to be a vendor at local shows. Then, in March 2020 the COVID-19 pandemic hit the United States. Schools and businesses were closed in the North Country. Kennedie and her family saw an opportunity that would not only allow her to stay in the groove of baking, but also put some much needed smiles on the faces of those in the community.
"I stopped offering my homemade sweet treats when the pandemic began. About a month ago, I was experimenting with some new treats and frostings in my kitchen and created mini cupcakes of all kinds which totaled over 100 cupcakes. My mom suggested we create sweet sampler boxes and post them on Facebook. All of the boxes sold out immediately. I ended up making over 400 mini cupcakes and turning them into sweet sampler boxes to fulfill several orders in just 2 days."
The Thinking of You boxes were born. "Each box is tied with a tag and a small message written on the back for the recipient. People from all over Jefferson County purchase these boxes for someone else. I make surprise, no contact deliveries each Thursday," says Kennedie. "I am now averaging between 35-40 deliveries each week, plus individual orders separate from Thursdays." Orders for the boxes can be made through Kennedie's Facebook page "Kennedie's Kreations."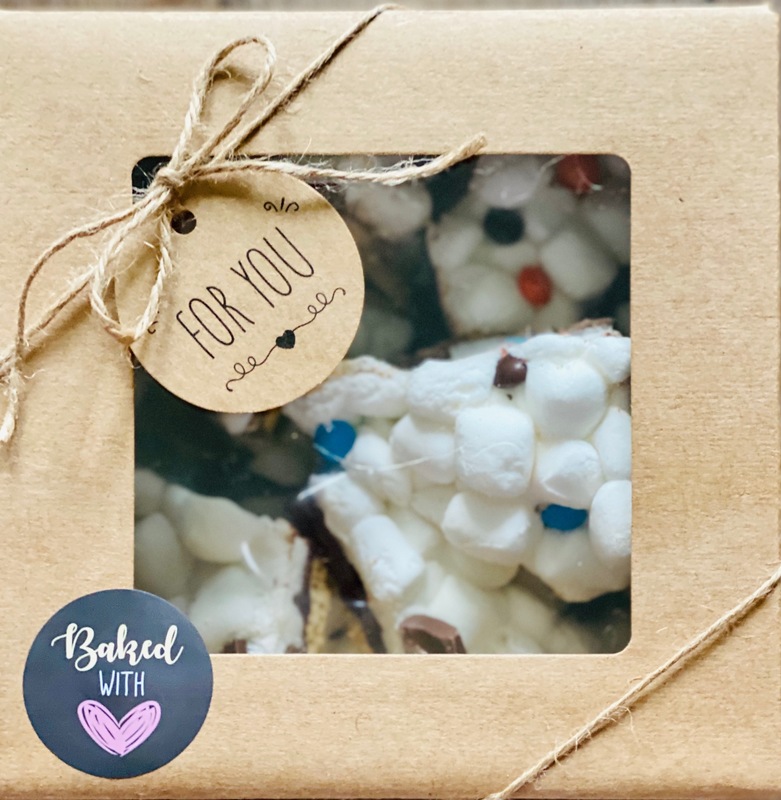 A Thinking of You Box

Kennedie has been accepted to the Culinary Institute of America at Hyde Park. There, she plans on majoring in Food Business Management with Baking & Pasty Arts. After earning a Bachelor's Degree, Kennedie wants to stay within the baking industry either owning her own business or working for a bigger company.
Like many of her fellow seniors, Kennedie is sad that her final year in high school has been cut short due to the pandemic. However, she says the Class of 2020 will come out strong. "I believe this is shaping me and preparing me for my future. It has proven to me that life doesn't always go as planned, but we must make the best out of the situation. Nothing is ever guaranteed in life so no one should ever take anything for granted. One thing is for sure, the pandemic can never take away all of my memories created over the years, accomplishments I've achieved and the life lessons learned because of this."
And Kennedie's time at BOCES will be looked on with fondness with what she has learned and the people she met along the way.
"My favorite thing about being able to attend BOCES the past two years is that I was able to spend half of my school day, five days a week, doing what I love in the kitchen. For me, it has helped a lot and has prepared me for college and learning to become a leader. I greatly appreciate my instructors, specifically Chef Ramsey & Chef Landers, and I thank each of them for all that I have learned. I have really enjoyed my last two years and will certainly miss it."
Click on the links below to learn more about the Culinary Arts programs offered at BOCES