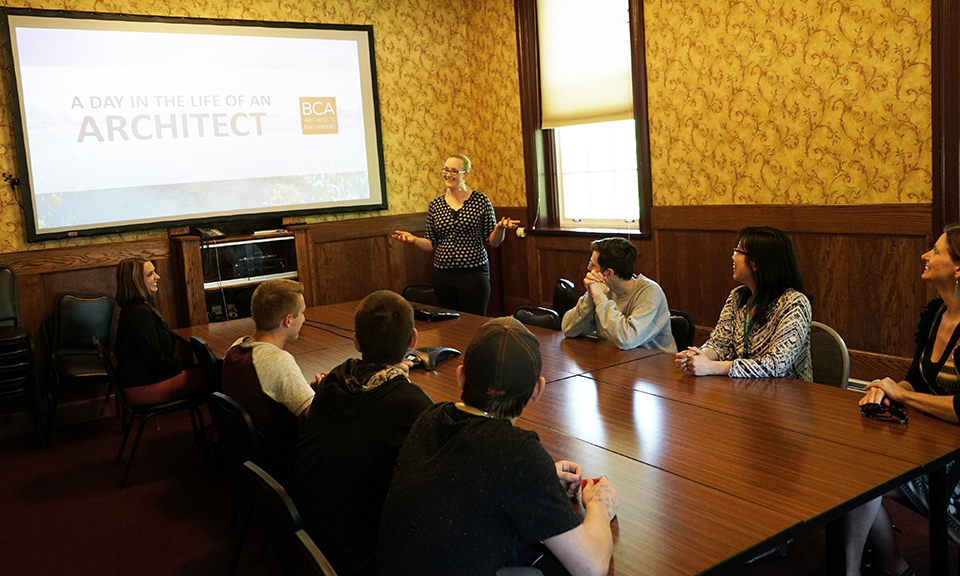 3D Modeling Students Visit Local Business
Nathan Lehman
Friday, August 10, 2018
Students in the 3D Modeling & Design program at the Bohlen Technical Center recently learned the career options available to them through a visit with BCA Architects and Engineers in Watertown.
The company, formerly known as Bernier, Carr, & Associates, gave students a tour of their facility and explained the history of the company. Students also had a chance to meet with staff, including Mike Mitchell, who was a 2002 graduate of the same program at Jefferson-Lewis BOCES.
Kristen Aten-Schell, Project Architect and LEED Engineer, explained that the company does most of its work in renovation of existing buildings and that many projects require a team effort to complete.
Students were also given a formal presentation that went through the day in the life of an architect, different projects that are undertaken, the types of careers that are available with an architectural degree, and the education requirements needed for the degree.
The class was also given a sneak peek into an upcoming project BCA is working on for local client.
Aten-Schell says the company is always on the lookout for local talent and offers internships to students who are studying architecture and are looking to enter into it as a career.
"The North Country in general suffers from 'brain drain' where our students and young professionals tend to leave our area in search for better opportunities," she says. "At BCA, we have built a great opportunity for our staff to stay close to home but still be a part of something bigger, something special. I believe it's up to us to reach out to the community to help develop, attract and retain young talent in our own backyard."
Abagayle DeBuck-Earl, a 2018 graduate of the 3D Modeling & Design program from Sackets Harbor Central School, spent part of her senior year working part time at BCA. Aten-Schell says partnerships between companies like 3D Modeling & Design and local employers are important.
"The entire business of architecture and building systems engineering is changing, my job looks nothing like it did just five years ago and I can only imagine what it will look like five years from today," she says. "3D modeling and design training is crucial in my opinion to offer local students a future in the design profession. We are always looking for talented individuals who can use 3D modeling programs, particularly Revit and Civil 3D, because these types of software drive the production of our business. We are also looking for 'life-long learners' because technology is always changing and we have to keep up with the times."
For those looking for a career in architecture, 3D Modeling & Design is a perfect opportunity to begin studies in the field. To learn more about the program offered at Jefferson-Lewis BOCES, click here.