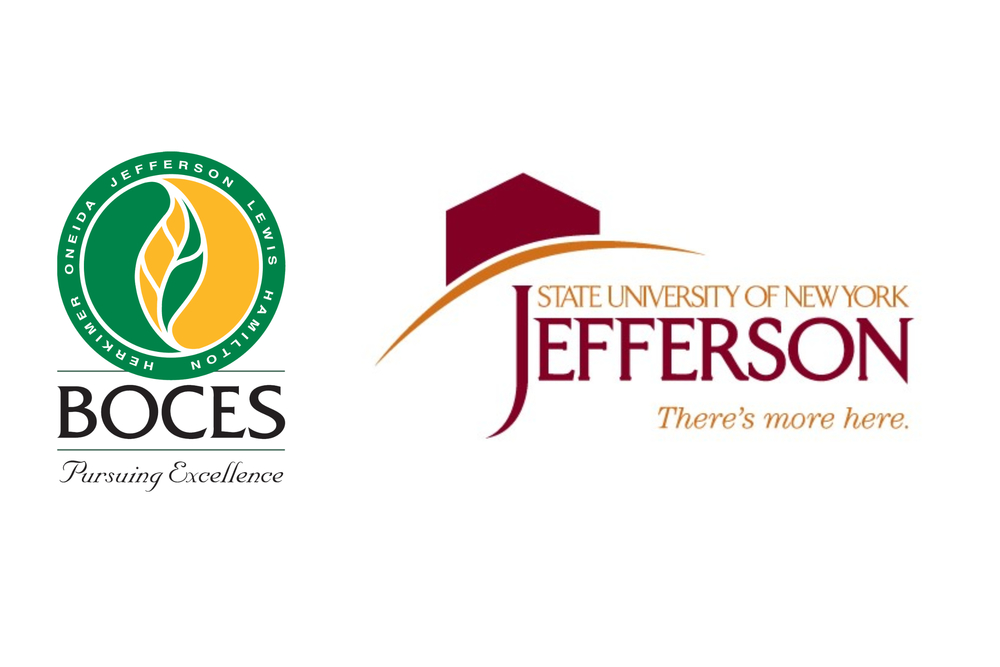 BOCES and Jefferson Community College Sign Articulation Agreement for Business Degree Pathway for BOCES' CTE Students
Nathan Lehman
Tuesday, June 22, 2021
The Jefferson-Lewis-Hamilton-Herkimer-Oneida BOCES (BOCES) and Jefferson Community College (JCC) leadership teams are pleased to announce an exciting new articulation agreement that will provide a faster and cost-effective pathway for students in the region to earn a business degree. Students at the BOCES technical centers in Jefferson and Lewis Counties who successfully complete their two-year program in Career & Technical Education (CTE) will then have the opportunity to earn The AOS (Associate of Occupational Studies) Degree in Applied Business Studies from JCC beginning with the 2021-22 school year.
Both BOCES and JCC have been working closely to align educational programs and services to best meet the needs of the community's students. The Boards of BOCES and JCC came together in October 2020 to set joint priorities for the partnership. These priorities include creating seamless pathways between the K-12 districts, BOCES, and JCC, while recognizing that employers, students and parents want clear pathways from education to employment.
In a 2021 survey, conducted by JCC's Office of Strategic Initiatives, when asked about anticipated hiring over the next five years and in-demand degrees, Business Administration (#1) and Applied Business Studies (#5) were among the top programs of interest among responding local employers. When asked about hiring difficulties over the past five years, over 30% of responding local employers indicated candidates had insufficient educational credentials. Over 47% of responding local employers indicated that the primary shortcoming among recent applicants was their technical skills. (JCC Employer Survey, 2021)
Based on this research, BOCES and JCC have developed an articulation agreement that results in students earning up to 20 credit hours toward the AOS (Associate of Occupational Studies) degree in Applied Business Studies upon completion of a 2-year CTE course during high school, at either the Howard G. Sackett Technical Center in Lewis County or Charles H. Bohlen, Jr. Technical Center in Jefferson County. Earning these college credits incurs no cost for students or their families, upon enrolling at JCC, saving them almost $5000 on the cost of an AOS degree at JCC.
High school juniors and seniors also have the opportunity to take college courses at a heavily discounted rate, through JCC's EDGE program. For the AOS in Applied Business Studies degree, transferring BOCES credits and taking EDGE courses can equal over 50% in savings on the cost of this degree. This also makes it possible for students to earn this Associate's degree in as little as one year.
BOCES District Superintendent Stephen J. Todd states, "this new program pathway will be good for students, good for families, good for area employers, and good for our community. BOCES students will have the opportunity to earn a college degree more quickly and cost effectively than ever before, and they will be able to go right to work in our North Country communities with highly desired, highly marketable career skills. We are pleased and honored to partner with JCC in offering our students this exciting opportunity."
Scholarships and financial aid are available to help students with the remaining cost of the degree. JCC's Associate Vice President of Strategic Initiatives, Dr. Megan Stadler, states, "students who take advantage of this initiative will be able to enter the competitive labor market with highly marketable technical skills AND a College degree, preparing them for a sustainable career and the skills necessary to manage or start and operate a business. We want BOCES students to see themselves on a pathway to College--we believe in their potential and the value of a career and technical education combined with an Associate's degree. The Jefferson and BOCES teams are committed to this shared vision and will continue to work together to best serve the needs of local students and employers."
This BOCES to JCC AOS agreement was signed on My 20, 2021 and is applicable beginning Fall 2021 for the 2021-22 academic year.

For more information on the BOCES to JCC AOS program, call 315-777-9800 or email JCCdegree@boces.com