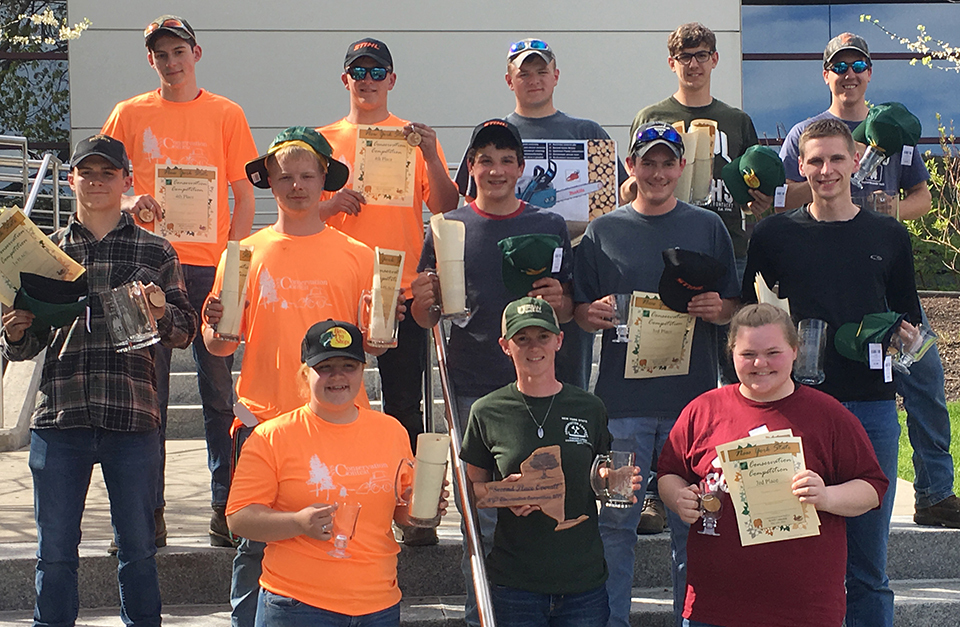 Forestry Students Successful at NYS Conservation Competition
Nathan Lehman
Monday, May 20, 2019
The talented students at the Environmental Conservation & Forestry program at the Howard G. Sackett Technical Center had another strong showing at this year's New York State Conservation Competition, taking second place overall.
The 2019 edition of the competition was held May 16 at SUNY Cobleskill and included nearly twenty conservation and forestry programs from across New York State. For Jefferson Lewis BOCES, a total of 13 students from the Forestry program took part.
The official results for Jefferson-Lewis BOCES are below:
1st Place
Tree Felling – Tyler Culver / Copenhagen Central School / Senior
*Tyler took home a brand new chain saw compliments of Bill Lindloff's Pro Cuts for his first place win.
Skidder Operation – Jed Denney / Lowville Academy / Senior
Men's 2 Person Crosscut – Seth Miller (Beaver River) and Micah Kelly (Lowville Academy) / Both Seniors
Jack-n-Jill 2 Person Crosscut – Colene Herzig (Copenhagen) and Jake O'Brien (Copenhagen) / Both Juniors
Men's Team Pulp Throw – Tucker Carroll (Copenhagen), Paul Haldeman (River Valley Mennonite), Blaine Hoffman (Lowville Academy), Jake O'Brien (Copenhagen) / All Juniors
Men's One Person Pulp Throw for distance – Jed Denney / Lowville Academy / Senior
2nd Place
Skidder Operation – Blaine Hoffman / Lowville Academy / Junior
Fish and Wildlife Identification – Seth Miller / Beaver River / Senior
3rd Place
Log Scaling – Jed Denney / Lowville Academy / Senior
Chainsaw Speed Cut – Will Graves / Adirondack Central / Junior
Fish and Wildlife Identification – Tucker Carroll / Copenhagen / Junior
Women's Bow Saw – Colene Herzig / Copenhagen / Junior
Jack-n-Jill 2 Person Crosscut – Tucker Carroll (Copenhagen) & RuBea Ostrander (South Lewis) / Both Juniors
4th Place
Skidsteer Operation – Hunter Reed / Copenhagen / Senior
Tree Identification – Jake O'Brien / Copenhagen / Junior
Chainsaw Speed Cut – Cameron Gray / Copenhagen / Senior
Compass and Pace – Tucker Carroll / Copenhagen/ Junior
Women's Bow Saw – RuBea Ostrander / South Lewis / Junior
Men's Team Pulp Throw – Tyler Culver (Copenhagen), Jed Denney (Lowville), Seth Miller (Beaver River), Micah Kelly (Lowville) / All Seniors