EDIT MAIN

Special Education Resources
The Program for Exceptional Students isn't just a department. It's a partnership of teachers, parents, and community members, all of whom are working together to ensure that every student has the opportunity to learn and succeed.
Please take a moment to explore some of the resources available to help our mission.
Parent/Community Resources: Various organizations and resources are available throughout the community to assist those with special needs. See our comprehensive list.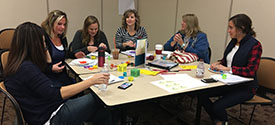 RSE-TASC: The New York State Education Department (NYSED) established the Regional Special Education Technical Assistance Support Centers (RSE-TASC) to serve as a coordinated statewide network. Learn more about RSE-TASC and it's specialists as well as upcoming workshops.