EDIT MAIN

CTE Resources
Taking a Career and Technical Education class at Jefferson-Lewis BOCES is more than studying in a classroom setting.Various academic and financial resources are available to high school and adult students to support and enhance the education experience.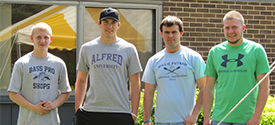 High School Resources: A variety of resources are available to students and faculty in regards to high school CTE courses offered at Jefferson-Lewis BOCES.
Adult Education Resources: Need information on a prerequisite exam needed for one of our courses? What kind of financial assistance is available for you?