EDIT MAIN

Manufacturing
This career cluster focuses on the planning, managing, and production of materials into a final product.
Careers in this field involve turning ideas into a finished product from the design phase all the way to physical production and quality control. Like many fields, manufacturing is now a high tech field that uses computer coding and technology as part of the process. This is a growing field that requires highly skilled and talented individuals to fill what can be numerous job openings.
Possible careers include industrial machinery mechanics, maintenance and repair workers, mechanical drafters, nanotechnology engineers, robotics technician, assemblers and fabricators, and welders.
The following CTE programs under this cluster are offered at Jefferson-Lewis BOCES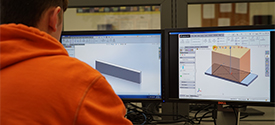 From residential to commercial design with only your imagination as your limit. 3D Modeling & Design includes instruction in three-dimensional modeling of structures, statues, parks, skateboards, radios, trucks, bridges, solar farms, signs, city blocks and more. You'll develop the concept and go through design phases before construction begins. Become a part of this creative process when you enter Architecture, Engineering & 3D Design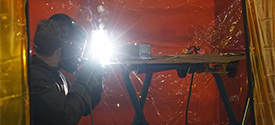 Prepare to enter the high-paying field of welding. Students will use industry-standard technologies, including SMAW, TIG and MIG welders, plasma cutters, trace and pattern torches and oxy fuel. Plus, students will learn about accurate measurement and properties of metals. Upon successful completion of the program, participants will be able to work in the welding trade as a certified professional or they can opt to further their education in college or advanced trade schools. Welding Technology
Electronics and computers are a part of nearly everything that touches everyone's life, from airplane control towers and medical imaging machines to the grocery store checkout, to cell phones and game consoles. There is a need for trained professionals to design, maintain and repair those computer systems and electronic devices. Students will enter a high-tech, hands-on world where they will learn about electronic components, circuits, computer-aided design, computer and network systems and robotics. Electronic & Computer Technology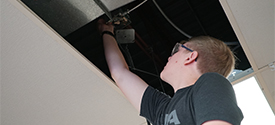 Experienced electricians are in serious demand. First year study focuses on residential wiring techniques. Students will build at least 40 different electrical wiring circuits within the first 10 weeks and also study conduit bending, AC/DC theory and national electrical code. Year two will focus on commercial/industrial maintenance wiring, including installing and repairing conduits, motors, light fixtures and more with the possibility of an internship with a local business. Electrical Wiring Technology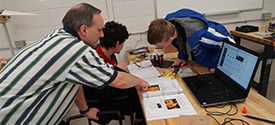 Use innovative industry-driven technologies to create new and improved production methods and designs. Students will work in teams to bring new ideas to fruition, and gain the knowledge and background to work effectively in modern industry. The program is designed to prepare technically oriented students for continuing education and/or employment in growing careers such as production technology, industrial maintenance, automation, robotics, industrial, and commercial electronics, and computer aided drafting/design. Engineering & Design
Similar Clusters
Learn more about Manufacturing at GPS for Success