EDIT MAIN

Law, Public Safety, Corrections & Security
This career cluster focuses on the planning, management and providing of legal and protective services, public safety and homeland security.
This cluster is a service based field that includes many interactions with the public. It can be physically and mentally challenging, yet rewarding. Communication, problem solving and critical thinking skills are a must. Often times, those in this field will be working as team with others and may correspond with similar agencies. This career field could take you anywhere; a police and fire station, a corrections facility, or a courtroom setting.
A variety of careers are available in this field. They include correctional officer, criminal investigator and special agent, detective, patrol officer, sheriff and sheriff's deputy, court reporter, law clerk, retail security, bailiff and crossing guard.
The following CTE programs under this cluster are offered at Jefferson-Lewis BOCES: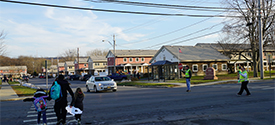 Careers in the criminal justice field are both rewarding and demanding. BOCES' Criminal Justice program allows you to explore your options in this field in rigorous hands-on and classroom-based learning activities. The two-year program features use of some of the most current technology found in the profession, including crime-scene investigation and suspect identification tools. You'll also work side-by-side in internships with criminal justice professionals in the local community. Ready for the challenge?
Similar Clusters
Learn more about Law, Public Safety, Corrections & Security at GPS for Success: