EDIT MAIN
High School Resources

A variety of resources are available to students and faculty in regards to high school CTE courses offered at Jefferson-Lewis BOCES.
Students can learn more about job opportunities, how to apply for a job and can access guidance and academic support facilities available at both of our technical centers.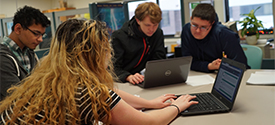 Student Resources: A variety of support services are available at our two technical centers to help students with their academic studies.