EDIT MAIN

Agriculture, Food, & Natural Resources
This career cluster focuses on the production, processing, marketing, distribution, and development of commodities and resources within the agricultural field. This includes food, natural resources, horticulture, wood products, plant and animal resources.
Careers in this field will involve working in the outdoors, around animals and livestock, and with high tech equipment. Many of these careers will involve computer knowledge and the ability to effectively communicate with people. It is a continuously growing and evolving industry.
Possible careers include animal breeders, animal scientists, environmental engineers, environmental science and protection technicians, forest conservation technicians, water resource specialists, agricultural equipment operators, farm equipment mechanics and service technicians.
The following CTE programs under this cluster are offered at Jefferson-Lewis BOCES: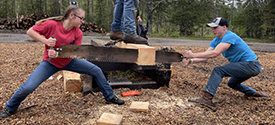 If your definition of "going out into the world" really does mean going out into the world, a career in Environmental Conservation and Forestry may be just the path you want to take. This program is designed to prepare you for a wide variety of career opportunities in the field of natural resource management, conservation and forestry.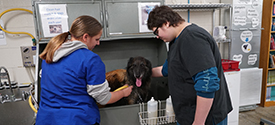 The two-year Veterinary Practices program at BOCES is your opportunity to explore the many career options in the field of animal science. Through a blending of a strong academic component with rigorous hands-on work, you'll gain the insight into the skills necessary for success in small animal care.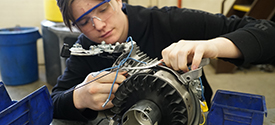 For students with a keen curiosity in how engines function…enjoyment of hands-on learning projects…an interest in further developing a foundation of repair skills. Gas & Diesel Mechanics gives students an excellent foundation for employment in agricultural, industrial and over-the-road truck mechanics. Participants will learn about engines, power trains, hydraulics, chassis, welding and troubleshooting. Study includes use of the latest tools in shop practices, gaining real-world job experience.
Similar Clusters
Learn more about Agriculture, Food & Natural Resources at GPS for Success: