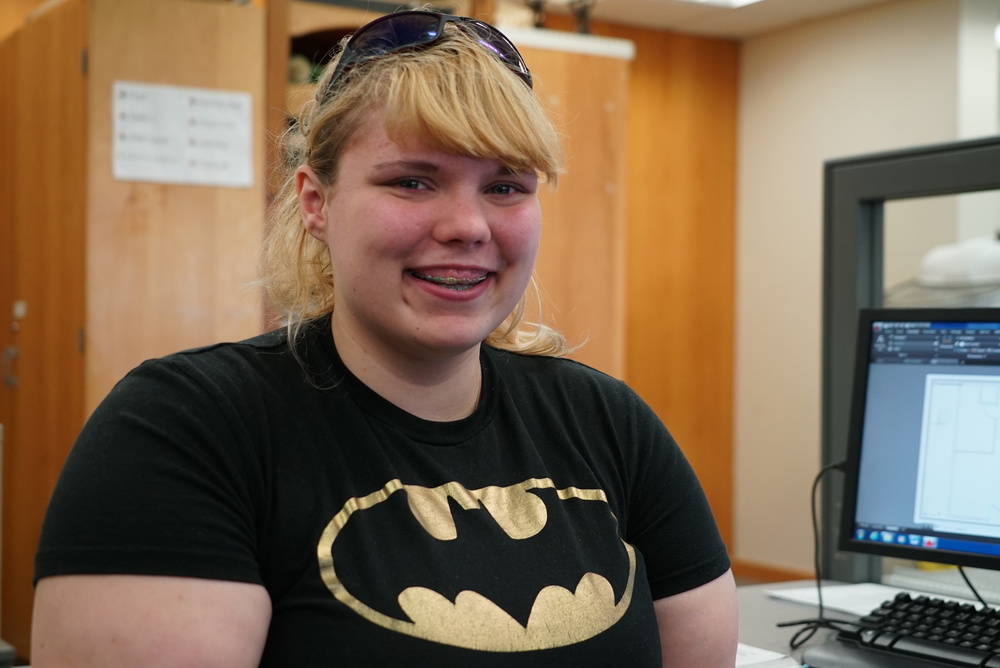 3D Modeling Student Working at Watertown Architectural Firm
Nathan Lehman
Monday, June 04, 2018
Months before graduating high school, a student in the 3D Modeling & Design program at the Bohlen Tech Center has a full time job lined up using the education she acquired through her studies at Jefferson-Lewis BOCES.
Abagayle DeBuck-Earl has been working for the past several months on a part-time basis for BCA Architects & Engineers, formerly known as Bernier, Carr & Associates, in Watertown with plans to turn that into full-time employment following her June 2018 graduation from Sackets Harbor Central School.
"I've always been fond of and interested in architecture," said Abagayle, who credits the 3D Modeling & Design program at BOCES for enhancing that interest.
Abagayle began her time at BCA Architects & Engineers last October when she was offered a two-day shadow opportunity with the firm after having previously met with representatives of the company at Workforce 2020. The high school senior was then offered a part-time job through the end of the school year. She has been working afterschool three days a week and more when school vacation time allows.
She says her main work at BCA Architects & Engineers is to draft commercial buildings, a part of the architecture field she enjoys the most and plans to pursue further. Abagayle's future plans include attending Pittsburgh Technical College this fall. She also plans on continuing her relationship with BCA Architects & Engineers, working for them during college breaks and as part of mandated internships required by her degree pursuits. The company has also told her she will have a full time job waiting for her once her studies are complete.
"It's a crazy feeling. I'm only seventeen and it's overwhelming, but in a good way. It makes me feel like I have so many opportunities."
"Abbie has been a very good student," says Krysta Aten-Schell, Project Architect and LEES Administrator, BCA Architects & Engineers. "She's picked up her Revit training quickly and recently has been working on 3D modeling for two real-life projects in Alexandria Bay and Watertown with guidance from our staff."
Abagayle credits her time in the 3D Modeling & Design program for preparing her for future studies and being able to enter the workforce in her chosen field at such a young age.
"It has helped me so much. I know so much more and I feel like I can do anything."